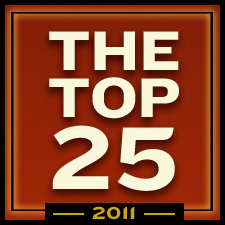 By Admin, BuyLocalBG.com, BuyLocalBg@gmail.com/
Tuesday, January 10th, 2012 11:00 AM CST
The Premier cigar shop in Bowling Green proves it with 3 of the Top 10 cigars on 'Cigar Aficionado' (remember some of their sticks on their list are not offered even in the U.S. so 3 of 10 is amazing). Here is a break down from Cigar Aficionado on each one of these fine cigars:

#1. Alec Bradley Prensado Churchill
Alan Rubin has come a long way in 16 years. He first joined the cigar business in 1996, selling a cigar brand designed for sale at golf courses. It didn't succeed. Rubin had left the family fastener business for something he enjoyed: selling cigars. He named his young company after his two sons, Alec and Bradley, but struggled to find his way. Deep in debt, he realized he had to be in premium cigar stores. He gained a measure of popularity by selling cigars in bundles.
Trying to find an edge in an industry that was going through difficult times, he showed signs of innovation early with the release of a cigar with a triangular shape, a first for the cigar business. In 2007 he finally hit his stride with the creation of Alec Bradley Tempus, a heavy-bodied cigar that brought his best ratings to date as well as industry buzz.
Two years later, he created a blend called Alec Bradley Prensado. Rubin had smoked a very dark wrapper leaf grown in a region of southern Honduras called Trojes and decided to build a cigar brand around it, using Central American tobacco exclusively. And what a cigar he made. The brand hit the market in 2009 and was acclaimed from the very beginning. In a vertical brand tasting in Cigar Insider of the five original sizes, each scored 91 points or more and earned our accolade of Humidor Selection.
The Alec Bradley Prensado Churchill, made at the superb Raices Cubanas factory in Danlí, Honduras, is as gorgeous a cigar as you'll ever see, with a picture-perfect head and a stunning wrapper. But it is the flavor that makes it a classic smoke. The Honduran and Nicaraguan tobaccos come together to create leather, chocolate and spice notes, and a long, lush finish.
MADE BY: Fabrica de Tabacos Raices Cubanas S. de R.L.
FACTORY LOCATION: Honduras
WRAPPER: Honduras
BINDER: Nicaragua
FILLER: Honduras, Nicaragua
RING GAUGE: 48
LENGTH: 7″
RATING: 96

#2. La Aroma de Cuba Mi Amor Belicoso
Ashton Distributors Inc. has owned its own cigar brands for more than 25 years, but the company has broken new ground with the creation of La Aroma de Cuba Mi Amor. The cigar brand is the first from Philadelphia's Ashton to be made with a Mexican wrapper.
Mexican leaf has been used forever in the cigar industry, but Ashton has always opted to use Connecticut broadleaf on its dark cigars. Most Mexican maduros are made with a leaf known as San Andrés Negro, while these La Aroma de Cuba Mi Amors have wrappers grown from Cuban seeds. The lush and fertile San Andrés Valley outside of Veracruz turns these leaves dark and oily, packing them with flavor.
La Aroma de Cuba Mi Amor is rolled for Ashton in Nicaragua at My Father Cigars, the massive factory run by the talented Garcia family. Originally from Cuba, José "Pepin" Garcia, his son Jaime and daughter Janny now make millions of cigars at My Father, perhaps none finer than the La Aroma de Cuba Mi Amor Belicoso. They combine Nicaraguan tobacco they grow themselves—using two binder leaves, as is their custom—with this dark, Mexican wrapper, and the combination is sublime. The tidy Belicoso is a box-pressed smoke that burns beautifully and has a lovely woody component balanced by notes of sweet nougat and copious amounts of nuts on the palate.
These cigars are not only delicious, but consistent. This is the second year running a Mi Amor has made our Top 25 list.
MADE BY: My Father Cigars S.A.
FACTORY LOCATION: Nicaragua
WRAPPER: Mexico
BINDER: Nicaragua
FILLER: Nicaragua
RING GAUGE: 54
LENGTH: 5 1/2″
RATING: 95

#5. Padrón 1964 Anniversary Series Exclusivo Maduro
The Padrón family continues to impress the cigar world with their complex, flavorful and eminently balanced cigars. Family patriarch José Orlando Padrón began making cigars under his name in 1964. His original efforts were made solely for his fellow Cubans living in Miami. His son Jorge began expanding the company's sales to new markets, and the 1994 introduction of the Padrón 1964 Anniversary Series took the brand to new heights, making them a must-have in the humidors of top cigar shops.
The Exclusivo size is a bit thinner than the typical corona gorda, and longer than the typical robusto. The smokes are packed with Nicaraguan tobaccos from Jalapa, Condega and Estelí, all of it grown in the open sunlight. Then they are sharply pressed in a distinctive style.
In maduro wrapper, the cigar is dark, with that trademark rich Padrón cocoa flavor. The Padróns have never failed to have a cigar in Cigar Aficionado's top five, and have won Cigar of the Year on several occasions.
MADE BY: Tabacos Cubanica S.A.
FACTORY LOCATION: Nicaragua
WRAPPER: Nicaragua
BINDER: Nicaragua
FILLER: Nicaragua
RING GAUGE: 50
LENGTH: 5 1/2″
RATING: 94
Don't forget Gift Cards are available which is great for the person receiving as well. Check out Bowling Green Pipe and Cigar on facebook. Located at 434 East Main on fountain square you can reach them at 904-2285. Open Monday through Saturday 11:00 am-8:00 pm.