By Admin, BuyLocalBG.com, BuyLocalBg@gmail.com/
Thursday, December 8th, 2011 7:00 AM CST
The cigar events at Bowling Pipe and Cigar have become a great time to stock up on premium cigars for the cigar lover's humidor. On December 14th from 5pm to close you will be able to get just that, premium cigars at a great deal. If you buy 3 El Baton or Brickhouse cigars you will get the 4th free. Also, 10% off all Fuente individual cigars. If you buy a box of Fuente, Brickhouse or El Baton cigars and you will receive 15% off.
It's also a great time to pick up gift cards if you are in the area for that cigar, beer or pipe tobacco lover in your family. Although, there are some great ideas for those of you who don't want to go the gift card route. Here are a few of the new items in by category.
Beer:
Founder's Breakfast Stout- Founder's Brewing Company: Click
Founder's Backwoods Bastard- Founder's Brewing Company: Click
Bitch's Brew- Dogfish Head Craft Brewery: Click
Hellhound- Dogfish Head Craft Brewery: Click
BBC Bourbon Barrel Stout- Bluegrass Brewing Company: Click
Cigars and Pipes: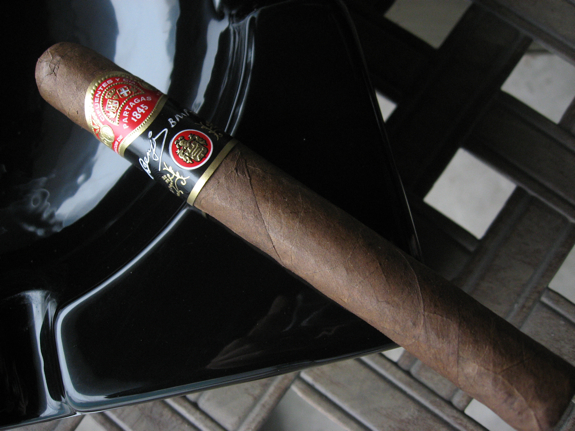 Partagas Benji Menendez Toros– They just received a very limited supply of the Partagas Benji Menendez Gift Boxes, and they aren't going to last long! This box is leather, with a beautiful inner lining, both emblazoned with gold leaf lettering. They are finally back in stock in attractive 12 Count Toro Book End gift sets.
Alec Bradley Taste of The World Sampler– This premium collection features six of Alec Bradley's best blends to date, including new releases like the piquant and peppery Black Market, and the cool and creamy American Classic.
Also, available in cigars will be Fuente Holiday Samplers and the Anejo. As well as the Perdomo Champagne Noir super toros 660 and Tubos. When it comes to Pipes there is open order availabilty on Peterson pipes and pipe tobacco. Also available are  Stanwell, BC, Winslow and Big Ben pipes.
Also, Bowling Green Pipe and Cigar is featuring the art of local artist Jonathan Berry:
Check out Bowling Green Pipe and Cigar on facebook. Located at 434 East Main on fountain square you can reach them at 904-2285. Open Monday through Saturday 11:00 am-8:00 pm.