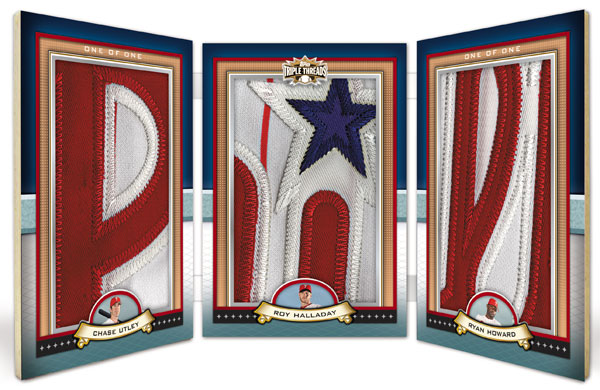 2011 Topps Triple Threads
By Admin, BuyLocalBG.com, BuyLocalBg@gmail.com/
Tuesday, September 27th, 2011 1:00 PM CST
If you are a collector or aspiring to be one the 4 sets Steve's Sports Cards has in will sure to be top of your list of "Must Gets." First, the 2011 Topps Triple Threads are just beautiful! Each pack of Triple Threads will now include an autographed Relic and an additional Relic inside — the equivalent of a full box in past years. Each box will include one single Unity Relic (more on that in a second), one Autographed Unity Relic, one Autographed Triple Relic and one Triple Relic.
New this year will be Unity Relics where the background images for a group of players are shared and can be joined to gether to form a larger image. They will be found one per pack in standard and autographed forms. Since they only have one Relic piece, the "triple threads" theme only holds true if collectors complete a trio.  The Unity Relic checklist alone will include 243 players with 27 different backgrounds. The cards will be limited to just 36 copies with rarer Sapphire (/10), Gold (/25) and Emerald (/50) parallels.
The new Topps Lineage product showcases some of Topps' classic designs while including the autographs and relic cards modern era collectors have come to expect. If you collected in the 1970's-80's and 1990's some of those classic styles will have today's players!
Topps introduces Marquee Baseball featuring something for everyone at a mid-range price point:  On-Card Autographs, Autograph Multi-Relics, Jumbo Relics, Patch Relics, Quad Relics, and Triple Relics!
Sporting a few new wrinkles and the same potent presentation of memorabilia and autographs from the NFL's top rookies and veterans, 2011 Panini Threads Football, like NFL training camps in most years, will once again play a pivotal role in getting collectors hyped for the rest of the regular season.
Check them out a Steve's Sports Cards:
[youtube=http://www.youtube.com/watch?v=CPZ8HGs_QKs]