By Admin, BuyLocalBG.com, BuyLocalBg@gmail.com/
Thursday, September 8th, 2011 9:00 AM CST
Brother against brother. Neighbor versus neighbor. All the cliche' lines are used but in our city of Bowling Green we had a great divide. A divide that saw the city so strong with secessionist and those that were strong abolitionists. One said abolitionist would be the elected Congressman, Henry Grider. Born in Garrard County, he was a veteran of the War of 1812, Henry Grider practiced law in Bowling Green at the time he served during the war. Grider served as the first Corporal in Payne's company of the Kentucky mounted volunteer militia.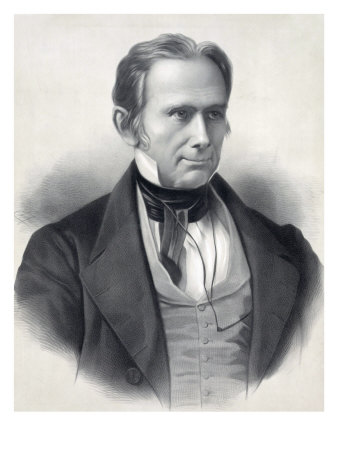 A rendering of Henry Clay, Famous Kentucky Whig.
After the war he started his political life. Grider was a Whig, much like our state's legendary politician Henry Clay. Serving first in the State House Legislation in 1827 and 1831 and then in it's Senate from 1833-1837. In 1842 he was elected to the first of two consecutive terms in the US Congress, representing his state's 3rd District, and served from 1843 to 1847.
Kentucky being a slave state, was friendly to the cause of the south and the slave trade. Henry Grider, although from Kentucky, opposed this practice and was vocal of his opposition to Slavery. Congressman Grider was one of the few Congressmen south of the Mason-Dixon line to vote for the unsuccessful Wilmot Proviso (1846), which would have prohibited slavery in new territories acquired from Mexico, including California.
His stance on the issue cost him time in office, as would be expected. In the 1850s he did not serve in any capacity but continued to practice law in Bowling Green. With a war coming around the corner Henry Grider was reelected to the US House, but as a Unionist and would serve three more terms in office. He switched to the Democratic Party (which is odd because much of the Kentucky Democratic party sided with the southern cause) for his final term and served from 1861 till his death.
After the war Henry Grider was a member of the Committee on Reconstruction. The committee was vital and helped draft the 14th Amendment of the US Constitution, which broadened American citizenship to include former slaves. With his age and declining health he came back to Bowling Green. That is where he passed away and is now buried, in the Pioneer Cemetery.
Also check out the Civil War Trail (website link for trail) via the Convention and Visitors Bureau or Kentucky Museum on WKU's Campus.
Past Civil War 150:
Part 1: Mt. Moriah Cemetery, resting place of "African American Union Soldiers."
Part 2: The Confederate Graveyard and Monument of Bowling Green. Also, the Most Dangerous Confederate.
Part 3: "Defending the L&N Railroad Wayside Exhibit."
Part 4: "Mt. Ayr & Fort Underwood"

Part 5: "Baker Hill and Downtown Bowling Green"
Part 6: "Confederate Defense Line and Rifle Trench."
Part 7: "Fort C.F. Smith and College Hill."
Part 9: "Hines Boatlanding and Civil War Hospital Exhibit."
Part 10: "Bowling Green Courthouse displaying Confederate Medal of Honors and Federal Army Officers."
Part 12: "Bowling Green's Official Sesquicentennial Event."