Also Daft Punk is in stock.
By Admin, BuyLocalBG.com, BuyLocalBg@gmail.com/
Tuesday, June 11th, 2013 10:00 AM CST
It's time to get on over to the Great Escape records and Comics. This week there are a host of great records from Third Man Records. Let's get into it:
Sun Records is one of the most important record labels in the history of music and this description of the Third Man re-release by their label is perfect:
In 1952 a record label started in a bustling Tennessee town. They were fond of acoustic tile, storefronts, the color yellow, the owner producing recording sessions and music that generally moved people. Their output couldn't be pigeonholed to any one genre. They released everything….country, rock and roll, gospel, bluegrass, rockabilly, blues. If there's an American musical form that came to fruition in the early 20th century, bet your bottom dollar that some outstanding examples of it were recorded and released by  SUN RECORDS.

Sixty-one years later, Third Man Records, in a similarly-bustling Tennessee town and believing in many of the same ideas mentioned above, has entered into partnership with the legendary Sun Records to reissue titles from their catalog on the format they were best known… 45rpm 7″ singles.  The initial three releases highlight three disparate, yet engaging releases from the Sun catalog.

Originally released in 1953, "Bear Cat" by RUFUS THOMAS is as certifiable a primitive R'n'B smoker that's ever existed. Complete with the inimitable Joe Hill Louis on guitar, the future "Funky Chicken" Thomas gives his male-perspective answer record to Big Mama Thornton's "Hound Dog." In the process, the legal powers behind "Hound Dog" writers Jerry Leiber and Mike Stoller won a lawsuit claiming "Bear Cat" infringed on the duo's copyright. Ever since the writing credits have been Leiber/Stoller, but what has not changed is the unbeatable groove that moves the song. "Bear Cat" is as fresh today as it was when it was originally released sixty years ago.

Ever since the writing credits have been Leiber/Stoller, but what has not changed is the unbeatable groove that moves the song. "Bear Cat" is as fresh today as it was when it was originally released sixty years ago.

Also released in 1953, "Just Walking in the Rain" by  THE PRISONAIRES was Sun's first certifiable hit. Penned Johnny Bragg and Robert Riley, both inmates at Tennessee State Prison, the solemn, haunting doo wop vibes were enough to garner the group, all incarcerated inmates, frequent day passes out of prison walls to perform across the state…including numerous engagements at the governor's mansion. The vocal prowess and good behavior on day trips would be enough for most group members to be pardoned by the governor. Elvis Presley often said the Prisonaires were his favorite vocal group and even covered "Just Walking in the Rain" on occasion. The proof is in the pudding on this one.

Released in 1956, "Get Rhythm" is an upbeat number by  JOHNNY CASH with positive lyrics speaking of a happy shoe-shine boy. While the song is classic, inimitable Cash, it would quickly become overshadowed by its b-side, "I Walk the Line." A peculiar song that changes key between each verse and has no chorus, "I Walk the Line" would become the song Cash is best known for, a tale of pledged fidelity with lyrical undertones implying even deeper meaning. Rolling Stone magazine ranked the song at #30 in their 2004 list of the 500 greatest songs of all time.

Each release remains faithful to its original issue on Sun, replicating the classic logo and label design coupled with a striking Sun company sleeve that dutifully employs the rooster Sam Philips lamented losing as labels switched from 78's to 45's.

This will be an ongoing partnership between Sun and Third Man and future releases are already in the works.
There are some new items available as well:
 Brittany Howard and Ruby Amanfu join forces for the "I Wonder" b/w  "When My Man Comes Home" Single
OK, we'll just say it. We LOVE 'Shovels and Rope.' Last year they and Alabama Shakes were our favorite albums we purchased: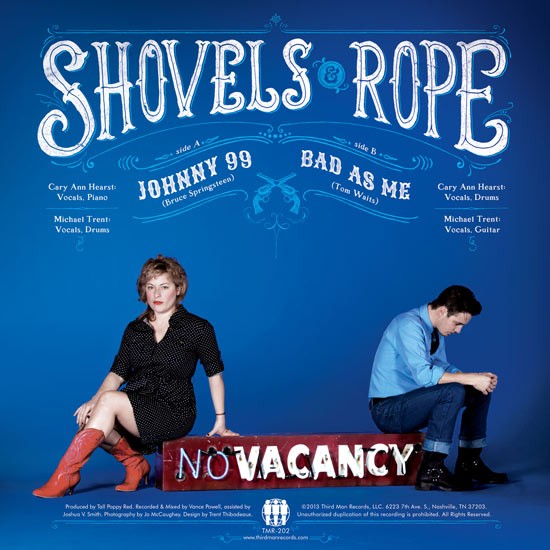 Charleston, SC's own Shovels & Rope. Side A gives us Shovels & Rope's piano heavy take on Bruce Springsteen's "Johnny 99" while the flip is a slinky hip shaking version of Tom Waits' "Bad As Me."
COMING SOON TO Great Escape Records and Comics:
[youtube=https://www.youtube.com/watch?v=SOHSOEiBdv8]
All of this is now available and much much more at Great Escape Records and Comics! Great Escape Records and Comics is located 2945 Scottsville Rd, Ste B17 & 18. Check them out on facebook.