Thursday night's contest between the Bowling Green Hot Rods and the West Michigan Whitecaps has been postponed due to weather. The two teams will participate in a doubleheader on Friday that consists of two seven-inning contests.
By Admin, BuyLocalBG.com, BuyLocalBg@gmail.com/
Friday, April 12th, 2013 3:00 PM CST
Last Day To Get Into Morris Jewelry For The HD Television! Find Out How Buying Jewelry Can Get You a Brand New TV From Poston's Electronics! Click
Spring Break is over but the fun is still going on at Cambridge Market and Cafe! Click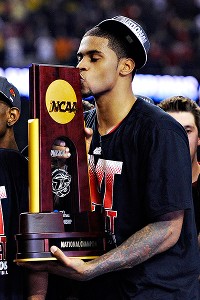 Congrats to BGHS Grad Chane Behanan and UofL!
Today the Men's Tomorrow The Women's Final Four Championship Games at Lost River Pizza Co. Louisville and Hoops Fans Take Advantage Of the Best Pizza, Wings and Beer Selection in Town! Click
Melissa Strautman Presents MassageFIX's Signature Style and Signature Massage! The Spring Tune Up Special For Booking Is Available Online From MassageFIX! Also, 30% off 70 min Signature Massage. Time Available This Tuesday, Wednesday and Saturday! Click
Job Fair presented by Labor Ready on April 13th With The Bowling Green Hot Rods! Click
Opening Day For The Bowling Green Hot Rods, They Are Ready! Are You? Click
Lost River Cave Geocaching 101 Series This Sunday! Click
RSVP For Lost River Pizza Co.'s Chef Take Over Event as Chef Chad Head, of Chago's Cantina located in Nashville Takes Over This Saturday! Click
S&R Tire Offering Major Deals On Tires This Month In-Store as Well As From Bridgestone and Michelin! Click
Be Sure To Follow Us On Instagram, Twitter and Facebook @buylocalbg! Click
Candle Maker's Scent Of The Week Is Honeysuckle and Soon You Can Place Orders Online! Click
Bowling Green Gives Back: 'I Remember Her' 5K Run/Walk at Spero Kereiakes Park This Saturday, 8:30am – 12:00pm! Click
Lost River Pizza Co. Hosts Restaurant Take Over & Bourbon Tasting Fund Raiser This Saturday! RSVP Today! Click
A Burger Night To Remember at Home Cafe and Marketplace! One Burger Featuring Fried Gator! Click
Bowling Green Gives Back: 5th Annual LifeSkills Walk/Run for Autism to benefit the Kelly Autism Program. Click
For All You "Late To Do Your Taxes" People, Remember You Can Save! Gra-Tac Heating & Cooling Helping You Save On Taxes for Last Year and This Year! Click
Don't Miss Monday's Southern Kentucky Genealogical Society Meeting at The Kentucky Museum. Topic: Identifying 19th Century Images. Click
Why Wait at The Pharmacy or drive across town to the Pharmacy? Ely Drugs of Bowling Green comes to you! Now offering Free Delivery and Price Match guarantee! Click
Little Texas with Lyndsey Highlander Presented by Howdy 103.7 at Capitol Arts Theatre. Click
One Great Restaurant For Saturday Breakfast, Two Awesome Locations. Starting Saturday, JD Bakery and Cafe Will Open At Their Restaurant Downtown And SKY Farmer's Market! This weeks specials: Stuffed French Toast w/ Raspberries or Blueberries, Pancakes & Sausage and Goldrush Casserole. Click
Set Your Schedule For Michael Strautman's Master's Jazz Recital This Sunday, At Hillvue Heights Church. Click
Community Farmer's Market BBQ School Is This Weekend, Don't Miss It! Click
BLBG Facebook Fan Page Friday: Yellowberri! Click
SKY Farmer's Market This Weekend Will Have The Sounds Of Dan Crocker and Bluegrass Music. Learn What The Farm to Fork Movement is All About With A Visit! Click
Civil War 150: "150 Years Remembering the Civil War in Bowling Green at Historic Railpark and Train Museum" Click
Civil War 150: Pioneer Cemetery Lantern Tour Downtown Bowling Green, 6th Avenue and College Street! Click
Great Escape Records and Comics, Spring Sidewalk Sale Blowout Is Set! Click