By Admin, BuyLocalBG.com, BuyLocalBg@gmail.com/
Tuesday, August 9th, 2011 09:00 AM CST
Choosing a Cigar is sometimes a tough situation. Last time we talked to Chris Abend, co-owner of Bowling Green Pipe and Cigar he gave us a simple lesson on types of cigars. Then he gave us the Favorite Cigars on our next visit. This week he will give us 5 cigars that you can smoke in under 30 minutes. Perfect for that Lunch break smoke.
La Flor Dominicana Cabinet Oscuro 250: The La Flor Dominicana Cabinet Oscuro Natural L-250 Oscuro sports a mouthwatering, extra-dark and oily Connecticut Broadleaf wrapper. Perfectly packed with a muscular blend of patiently-aged Ligero tobaccos, this Rothschild-size vitola is potent, yet so well-balanced the smoke is absolutely dreamy.
Perdomo 10th Anniversary Purito: Perdomo is taking the cigar world by storm, quickly becoming one of the premier brands in the industry. The Perdomo Reserve 10th Anniversary Champagne Robusto cigar is pleasantly aromatic with a smooth texture and draw.
San Cristobal Lancero: This 7.5×38 stick offered an excellent burn and great draw, slightly on the firm side with just the right amount of resistance all the way down. Flavors were rich, intense and bold – yet utterly smooth and never more than medium bodied. Several flavor transitions were present, with some flavors swapping, others coming and going at points.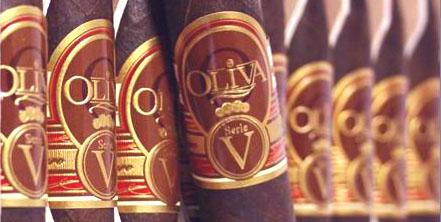 Oliva V #4: Serie V is a complex blend of Nicaraguan long filler tobaccos. Blended with specially fermented Jalapa Valley ligero, and finished with a high priming Habano Sun Grown Wrapper.  This cigar is blended to deliver full body taste while maintaining an unparalleled smoothness. This flavorful blend exhibits complex tobacco with rich coffee and dark chocolate tones.  A subtle and well balanced spice is present throughout.
Padron 1964 Principe Natural: The Padron 1964 Anniversary Series line was introduced in 1994 to celebrate the Padron Family's 30th anniversary. The 1964 Anniversary line consists of ten sizes available in natural and maduro wrappers. The tobacco is aged a minimum of 4 years, creating a smooth and complex taste. The Padron 1964 is made is made to honor the Cuban tradition by being offered as a box press series. It is consistently ranked at the top year after year by experts in the cigar industry.
For some of you, the economy class cigars are best for your wallet. The guys added a sixth pick for those working with a lunch budget:
Padron Corticos Maduro: Padron cigars are patiently handmade with long-aged Cuban seed tobaccos grown entirely in Nicaragua. A true classic and unique-tasting cigar whose outstanding quality defies its affordable price. Distinguished by their square-pressed shapes, dark, oily wrappers and medium-to-full bodied flavor, these perfectly balanced puros brim with complexity and the essence of coffee and cocoa bean. Their consistency is attributed to limited annual production, which keep them at the peak of flavor.
Also, If you know someone or love that is in present Active Duty in our Armed Forces, please inquirer about putting their name in the drawing for a package to be sent. You can help brighten the day of these brave men and women and send them a piece of home. Check out Smokes for Soldiers and Bowling Green Pipe and Cigar on facebook.  Located at 434 East Main on fountain square  you can reach them at 904-2285. Open Monday through Saturday     11:00 am-8:00 pm.